Did you know that August 8-14 is National Smile Week? What do you have to smile about? I have plenty to smile about!! Like bedtime conversations with my hubby who is working 1000 miles away right now. And my 21 month old's big toothy grin whenever she is in one of her silly moods. Or my 5 year old getting home from school and showing me the paper she drew that says I love mommy. And when my 3 year old comes and shows me she got her shirt on right and the shoes on the right feet and she is so proud of herself. The little moments bring a smile to my face every time! How could they not? These are the memories I want to reflect on after the kids are gone. I want to remember the lovey dovey moments with my husband during times when things aren't so lovey dovey.
"Did you know smiling is actually good for you? Research shows that there is a connection between optimism and good health; those who are positive have a stronger immune system.
Smiling can also trick the body into helping you change your mood and help you stay positive.
What's even better is that smiling is contagious. The more you smile, the more others will too."
That was the message I got from Erin at
1-800-Flowers
!! She wanted to make me smile, so she sent me a few products sure to give me a happy face!!
The first thing to arrive? My beautiful bouquet of flowers!!! The ones she had emailed me was the
Happy Day Bouquet
$39.99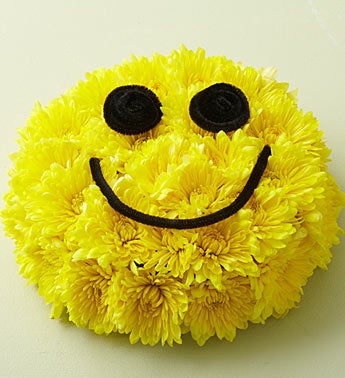 What I received was this:
which were sugar cookies with butter cream frosting. YUM.
But what I got was not quite the same. They were lemon flavored smiley face cookies, just as cute:
I was a bit bummed that the cookies weren't the yummy butter cream frosted ones,but the kids seemed to really like them, and I tried one and it was pretty good! The box was soooo cute too and I liked that the cookies were individually wrapped!
And finally to make me smile even bigger, I was offered the
Popcorn Factory's
Smiley Face Sampler Box
$19.99
What arrived was a yummy collection of goodies:
The Survival Kit
had a bag of tootsie rolls, a variety bag of different chewable candies, some gum and jawbreakers, a pack of super soft red licorice, some jelly belly jelly beans, fruit snacks, and popcorn (cheese and also almond pecan). The kit was super cute and I love the reusable tin!
Overall I was very happy with all the products I received! The flowers I got were actually prettier I thought than the smiley face bouquet. Like I said before, I would have preferred the frosted cookies. If I ordered them at $36.99 a box and didn't get what I saw online, I would be very upset. But the ones I had were still yummy. The survival kit was really good but I wish for the National Smile week I had gotten the smiley face sampler. Everything was good but again if I had to pay good money for it and didn't get what I ordered, it wouldn't be a good deal.
The Popcorn Factory, Cheryl's Cookies and 1-800-Flowers all belong to the same brand family! They have so many great things to choose from, each sure to put a smile on your face!!

One of you can win your own Popcorn Factory Kit!! Read on to find out how to win!!
MANDATORY ENTRY: THIS MUST BE DONE FOR ALL OTHER ENTRIES TO COUNT!:
Go to 1800flowers.com and tell me which bouquet you would like to have!! Leave me a comment below telling me what it is! Be sure I have your email in case you win!!
How about some extra entries? Leave separate comments for all that you do!
Follow via Google Friend Connect, leave the name you used, 3 extra entries
Blog about this for 5 extra entries. Leave me the link to the post
Put our button on your blog for 1 extra entry. Leave me the link to your blog.

For an additional entry, tell me something that puts a smile on your face!
Tweet daily about this giveaway-up to 5 entries per day!! (

1 entry per tweet, tweets must be at least 1 hour apart

)
Tweets must state that this is a contest and must include
@frugalfamilyfun #NationalSmileWeek and state that its a giveaway with "Popcorn Factory, a partner of
@1800flowers"
and the link to this giveaway! Leave me the link to your tweet in the comment.
You can use this tweet:
"Win a gift pack from The Popcorn Factory, a partner of @1800flowers http://ow.ly/2neYn Ends September 7#NationalSmileWeek"
Contest begins now and ends September 7,2010. Winner will be chosen via random.org and will be notified via email. Winner has 48 hours to claim their prize or forfeits the prize. In this case we will redraw for a new winner. Entrants must be US Residents only.
I was not monetarily compensated for this review. I was given the products mentioned from1-800-Flowers and its partners for review. These opinions are not affected by the products received. They are my honest opinions. Some photos from 1-800-Flowers and partners.